Overview
The 2018 update includes some of the following changes:
Continued emphasis on training
Distinctions between employer and employee responsibilities
A greater focus on hazard elimination
Required job safety plan documentation with risk assessments
Training Requirements
Retraining should still occur every 3 years, and the 2018 update indicates that employees must also be retrained if their job duties change, or when procedures are not being followed (as observed by annual inspections or supervision).
Training should include:
Specific hazards associated with electrical energy
Special precautionary techniques and safety related work practices
PPE, insulating and shielding materials, insulated tools and test equipment
Emergency response and AED training
Skills and techniques to distinguish energized parts determine nominal voltages
Approach distances
Decision making process and ability to perform job tasks
Training sessions must be documented and verified at least annually, and participants must be able to demonstrate knowledge. To help keep your workplace safe and compliant, check out the CSEM training quote tool for onsite Arc Flash Training.
Employer vs. Employee Responsibilities
Previously, NFPA 70E just addressed the employer when it came to safety-related work practices. Now this section is subdivided as follows:
Employer:
Establish, document and provide training.
Employee:
Must comply with safety related work practices and procedures provided by the employer.
Equipment Labeling
Old Label Versions. The recent update allows labels applied prior to the effective date of this edition of the standard to be acceptable if they complied with the requirements for equipment labeling in the standard in effect at the time the labels were applied (unless changes in electrical distribution system render the label inaccurate). See the Seven Elements of an Arc Flash Label.
Document and Review. Document the method of calculating and the data to support the information for the label and review for accuracy at intervals not to exceed 5 years. Where the review of the data identifies a change that renders the label inaccurate, the label shall be updated.
The owner of the electrical equipment shall be responsible for the documentation, installation and maintenance of the marked label.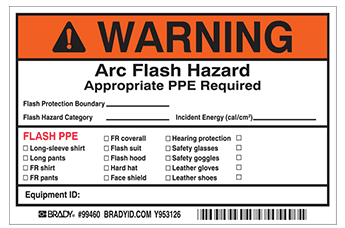 Establishing an Electrically Safe Work Condition
Exception for "Simple Procedures": When it comes to equipment that is cord- or plug-connect – for which exposure to the hazards of unexpected energization is controlled by the unplugging of the equipment from the energy source, and the employee performing maintenance is under exclusive control of the plug – lockout tagout is not required.
The 2018 update also added two additional steps to the process for establishing and verifying electrically safe work conditions:
Release stored electrical energy
Release or block stored mechanical energy
Learn more about Arc Flash protection
Work Involving Electrical Hazards
Shock Risk Assessment was modified to require documentation and more information regarding additional protective measures.
Arc Flash Risk Assessment was modified to identify hazards, estimate the likelihood of occurrence and if additional protective measures are required.
Two methods for conducting an assessment:
Incident Energy Analysis Method
Arc Flash PPE Category Method
Complying with NFPA 70E.
Companies are now placing more emphasis on maximising the life of their assets by adopting new inspection methods like infrared surveys into their maintenance plans, ultimately this may increase the number of maintenance engineers interacting with electrical energy.
The risk of an arc flash hazard is only too real across many industries, though there are many ways to reduce the potential occurrence of an arc-flash. Infrared Windows (IR Windows) are one solution available to an electrical engineer to reduce their exposure to live electrical energy when carrying out thermal inspections on energised equipment as they negate the need to remove the panel cover.
This means infrared inspections carried out through installed IR Windows can help towards a facility complying with NFPA 70E requirements.
Conclusion.
Electrical maintenance work can be very dangerous as almost all industries carry out some level of electrical maintenance and ultimately exposing employees to electrical energy whilst performing their duties on a day to day basis. NFPA 70E is vital in the continuing guidance to all industries on the associated hazards when working with electrical energy. An understanding of the standards outlined can potentially improving the reliability and productivity of a facility, whilst more importantly improving the safety of workers by increasing their awareness of these standards.
Arc Flash – The Potential Dangers of Electrical Maintenance and Thermal Surveys.
Download our IR Windows White Papers:
IR Windows 101 eBook
Are you considering using IR Windows? Then you need to download your FREE copy of our 'IR Windows 101: The answers to the questions you were afraid to ask' White Paper today. A decade ago Infrared IR Windows were very much in their infancy, but today things are very different.
Download Now
Inaccuracies Introduced Using Infrared Windows and Cameras
With increased focus on electrical safety and the widespread adoption by industry of NFPA-70E, infrared systems are increasingly becoming more popular. Download our FREE white paper now exploring inaccuracies in predicative maintenance.
Download Now
Back to News Index